Antarctic ozone hole slightly smaller in 2022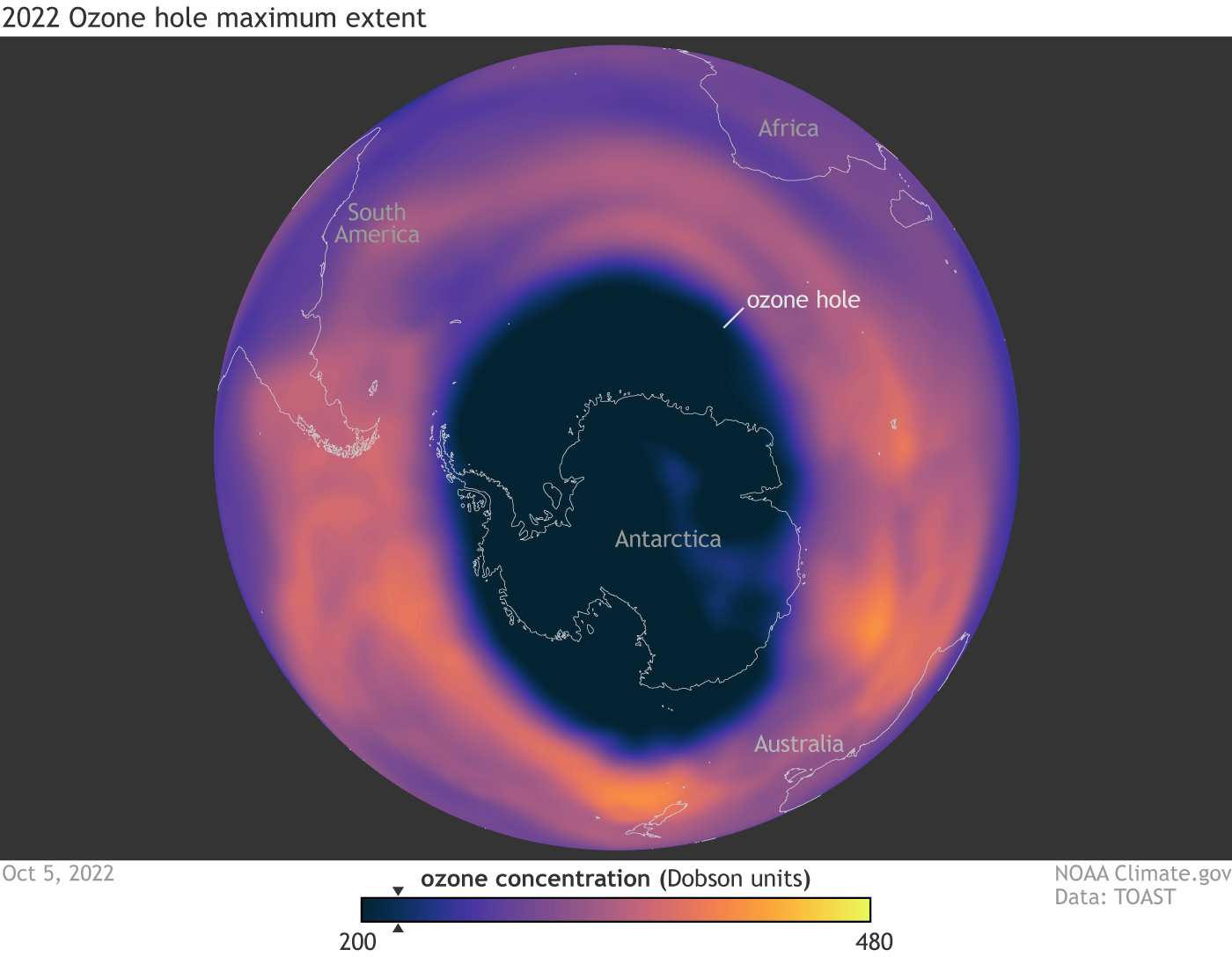 Details
The hole in the ozone layer—the portion of the stratosphere that protects our planet from the sun's ultraviolet rays—is continuing to decrease. The hole over Antarctica had an average area of 8.91 million square miles (23.2 million square kilometers). That measurement is slightly smaller than the extent of 8.99 million square miles (23.3 million square kilometers) reached last year, and well below the average seen in 2006 when the hole size peaked. 
Based on NOAA satellite observations, this image shows ozone concentrations over the Southern Hemisphere on October 5, 2022—the day the ozone hole reached its maximum extent for the year. The annual ozone hole is defined as the area in which ozone concentrations are lower than 220 Dobson units (darkest blue). On this day, the ozone hole spanned an area large enough to expose all of Antarctica and parts of the Southern Ocean south of the Atlantic Ocean (top) and the Pacific Ocean (bottom).
In addition to NOAA and NASA satellite observations, NOAA scientists at the South Pole Station also record the ozone layer's thickness by releasing weather balloons carrying ozone-measuring instruments called ozonesondes that measure the varying ozone concentrations, measured in Dobson Units, as the balloon rises into the stratosphere. 
The lowest column amount detected by ozonesondes at the South Pole this year was 101 Dobson Units on October 3, according to Bryan Johnson from NOAA's Global Monitoring Laboratory. This is very similar to last year's measurements. At altitudes between 8 and 13 miles above Earth's surface (14 to 21 kilometers), the ozone was almost completely depleted during the ozone hole's maximum.
Read the full story about this year's ozone hole at NOAA.gov.