A new long-term data set combines ocean and weather data along the Oregon coast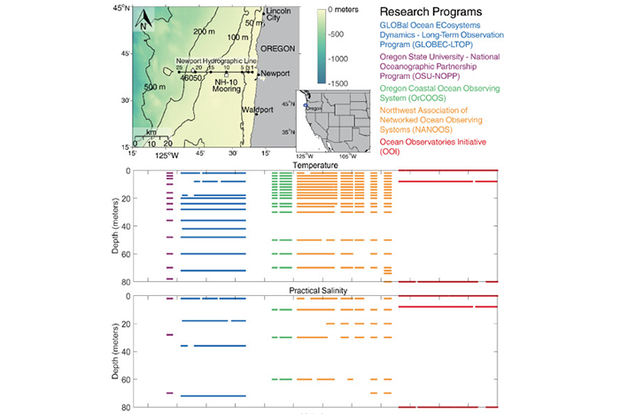 The California Current System runs along the US West Coast, including on Oregon's continental shelf, and has summertime upwelling processes which are critical to both marine ecosystems and coastal economies. Since 1960, monitoring programs along Oregon's coastline have helped to advance the understanding of oceanographic processes. In 1997, a mooring, or permanent structure anchored to the sea floor, was outfitted with scientific instruments to measure water flow velocity throughout the depth of the ocean. A second mooring was placed on Oregon's continental shelf in 1999 with expanded sampling abilities to collect measurements of velocity, temperature, and conductivity of the ocean water along with meteorological observations. Oregon State University (OSU) has maintained another series of moorings in the region since 2006, contributing to the long term observing effort to maintain meteorological and oceanographic data.
Read more at the link below.