New system uses seawater to capture and store carbon dioxide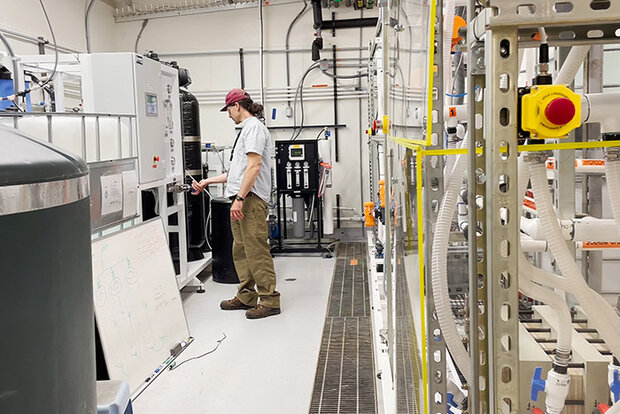 A new system has begun removing acid from seawater at the U.S. Department of Energy's Pacific Northwest National Laboratory (PNNL) facility in Sequim, Washington, allowing seawater to take up and store carbon dioxide (CO2) from the atmosphere. The system – which is about the size of a shipping container – represents an important step in research about ways to mitigate climate change and ocean acidification.
The technology behind the carbon dioxide removal system was developed by start-up company Ebb Carbon, which is partnering with PNNL, NOAA's Pacific Marine Environmental Laboratory, the NOAA Cooperative Institute for Climate, Ocean and Ecosystem Studies (CICOES) and the Salish Sea Modeling Center, both at the University of Washington. Funding was provided by NOAA's Ocean Acidification Program as well as the U.S. Department of Energy's Water Power Technologies Office (WPTO), and the ClimateWorks Foundation.
"We hope Ebb Carbon's technology could help remove carbon dioxide from the atmosphere as well as ease ocean acidification locally," said Brendan Carter, a University of Washington research scientist working with NOAA's Pacific Marine Environmental Laboratory on seawater carbon chemistry. "We are excited to test the method at the PNNL facility."