Global climate summary for October 2022
NOAA National Centers for Environmental Information released the agency's October 2022 global climate report this week. Below are some highlights.
Global temperature
The October global surface temperature was 1.60 °F (0.89 °C) above the 20th-century average of 57.1 °F (14.0 °C). This was the fourth-warmest October in the 143-year record. October 2022 marked the 46th consecutive October and the 454th consecutive month with temperatures, at least nominally, above the 20th-century average.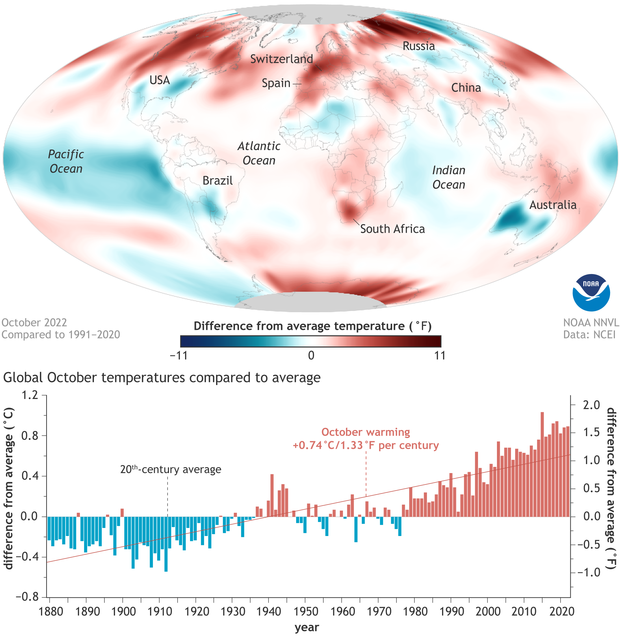 Globally, land-only temperatures for October ranked second warmest on record, trailing October 2015 by 0.09 °F (0.05 °C). Unusually warm temperatures across much of the Northern Hemisphere land surface resulted in the warmest October land temperatures on record for the hemisphere, surpassing the previous record set in 2021 by 0.05 °F (0.03 °C). Combined with ocean temperatures, overall temperature in the Northern Hemisphere ranked second warmest on record after 2015.
Europe had its warmest October on record at 2.6°C (4.6°F) above the 1910-2000 average. This surpassed the previous record, set in 2020, by 0.38°C (0.68°F). More than seven countries in Europe recorded their warmest or joint-warmest October on record.
Global precipitation
The long-running (since 2020) La Niña provided background conditions for floods in Australia, South Asia and the Maritime Continent, and West Africa.
Precipitation deficits dominated North America (except for Arizona and New Mexico), which continued drought over large areas and low flow in the Mississippi River.
Western Europe reverted to rainfall deficits for October, endured a heat wave, and had its drought reinforced.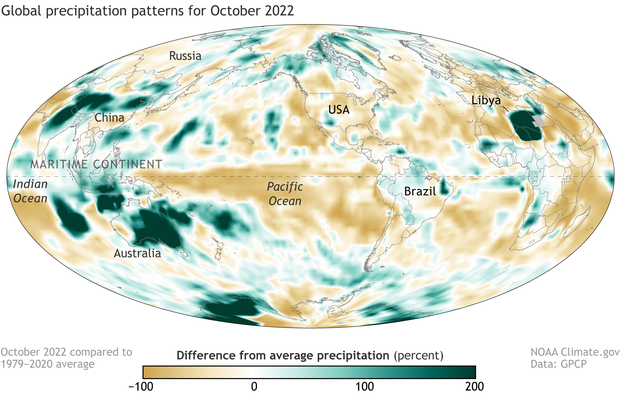 October precipitation was generally less than normal across the western, central, and southeastern U.S., Central America, southern Europe, central Asia, southern South America, as well as across parts of eastern China and southwestern Asia. Wetter-than-normal conditions were notable across parts of northern and northwestern Europe, southern central Asia, central India, northern Oceania, and eastern and southern Australia.
More information
October 2022 global climate summary
Full monthly report for October 2022