Arctic has sixth-warmest year on record in 2022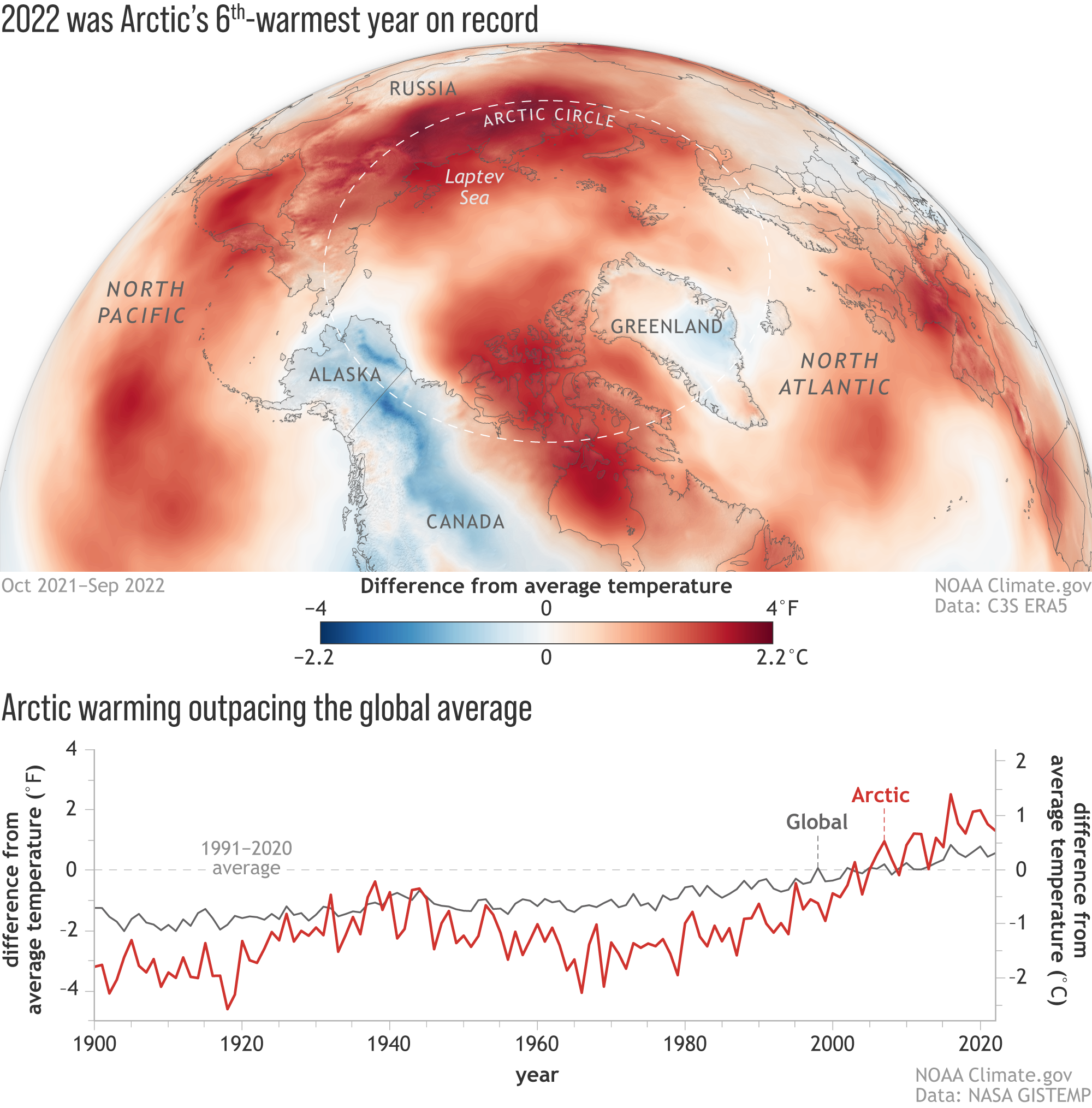 Details
According to the 2022 update of NOAA's Arctic Report Card, the past year was the sixth-warmest on record for the Arctic, based on records dating back to 1900. Average surface temperature for October 2021–September 2022 was 1.3°F (0.73°C) warmer than the 1991–2020 average. (To avoid splitting the Arctic's cold season, the monitoring year runs from October of one year to September of the next).
This map shows near-surface temperatures for October 2021–September 2022 compared to the 1991–2020 average. (The map is based on ERA5 Reanalysis, 925-millibar pressure-level data from the Copernicus Climate Change website.) Areas with warmer-than-average temperatures are orange and red, and areas with colder-than-average temperatures are blue. Below-average temperatures stretched from Alaska through central Canada, and also occurred in eastern Greenland. But throughout most of the Arctic, above-average temperatures predominated, especially over central Siberia and the Canadian Archipelago.
The graph shows Arctic temperatures over land and ocean areas north of 60°N (red line) compared to the global average (dark gray line). Temperatures have risen across the globe since 1900, but since the year 2000, Arctic temperatures have risen at least twice the global average, in a phenomenon known as "Arctic amplification." Multiple factors enhance warming at high latitudes, including the loss of ice and snow, which reduces the Arctic's ability to reflect incoming sunlight. The 10 warmest years on record for the Arctic have all occurred since 2011.
Rising temperatures are transforming the Arctic environment. For more information on Arctic temperatures in 2022, including details on seasonal temperature contrasts between the western and eastern Arctic, see the Surface Air Temperature essay of this year's Arctic Report Card.
Reference
Ballinger, T.J., Overland, J.E., Wang, M., Walsh, J.E., Brettschneider, B., Thoman, R.L., Bhatt, U.S., Hanna, E., Hanssen-Bauer, I., Kim, S.-J. (2022). Surface air temperature. Arctic Report Card: Update for 2022.